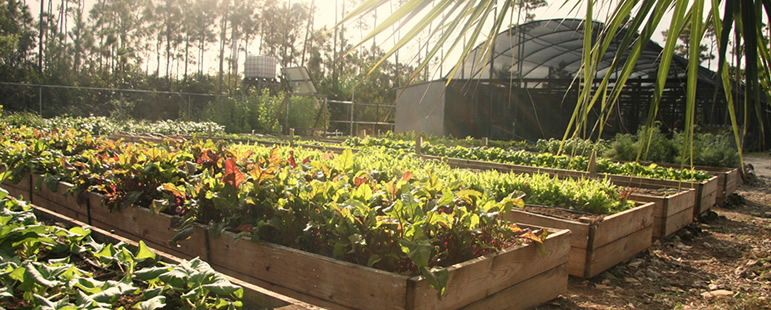 The chain of islands known as the Bahamas, officially called the Commonwealth of the Bahamas, consists of 700 islands, cays, and islets in the Atlantic Ocean. The Bahamian economy is heavily dependent on the tourism and financial services sectors. Agriculture and fisheries sectors account for 5% of both GDP and employment. Despite this, the importance of these sectors to the socioeconomic well-being of the country cannot be ignored.
An estimated 80% ($250 million worth) of the Bahamian food supply continues to be imported. Expansion of the agriculture and fisheries sectors in sustainable, cost effective ways can only assist in the diversification of the local economy and reduce its dependency on imports.
Agricultural production in the Bahamas focuses on four main areas: crops, poultry, livestock and dairy, with most agriculture products consumed domestically.
The Bahamas exports lobster and some fish but does not raise these items commercially.
Action Plan for Agriculture
The government aims to:
Land
With regard to land use, agriculture is carried out on small plots throughout the most of the islands with about 1% of the land area cultivated. The government has taken steps to expand and improve agriculture in reserving 182,000 hectares (452,000 acres) exclusively for farming, of which 8,000 hectares (20,000 acres) is for fruit farming.
Most of the land earmarked for low-cost agricultural leases are found on Andros, Abaco and Grand Bahama.
Agriculture is done on a small scale, producing mainly for domestic consumption. The most lucrative export is grapefruit, generating US$459,000 in 2010.
The Bahamas archipelago gives it a unique opportunity to diversify its agricultural output.
Creating more livestock processing quarters on more islands can go a long way in alleviating the pressure on the facility currently available.

Expansion of agricultural production on the less populous islands can bring added revenue for the expanding economy.

Expansion of the fisheries subsector is a great opportunity due to close proximity to the intended market, the U.S.
Major Crops for Bahamas include:
Onions

Okra

Tomatoes

Oranges

Grapefruit

Cucumbers

Sugar Cane

Lemons

Limes

Sweet Potatoes
Ministry of Agriculture, and Marine Resources
Department of Marine Resources
Bahamas Agricultural & Industrial Corporation (BAIC)
No.
Name (Acronym):
Type of Business / Role(s)
Contact Person/ Designation / Postal Address
Contact Information
1.
North Cat Island Cooperative Society Limited
AS-F / TM
Evelyn Dean Arthur's Town, Cat Island P.O. Box SS-6314, Nassau Bahamas
Tel: (242) 354-6071, (242) 393-3691; Fax: (242) 354-6174, (242) 394-5834
 
 
 
Octavia Johnson Arthur's Town, Cat Island
Tel: (242) 302-0700
2.
New Providence Livestock and Producers Cooperative Society Limited
AS-F / TM
Lori Roach P.O. Box N-7548, Nassau, Bahamas
Tel: (242) 361-4332; Fax: (242) 341-2226
3.
Grand Bahama Farmers Cooperative Society Limited
AS-F / TM
Joan Bowe Secretary P.O. Box F-43145, Freeport, Grand Bahama
Tel: (242) 352-4500; Fax: (242) 352-3905 Email: grandbahamafarmers@hotmail.com
 
Oscar Campbell Chairman
Tel: (242) 353 4560
4.
Abaco Agricultural Cooperative Society Limited
AS-F / TM
C. Lightbourne-Burrows, Secretary Lennie Etienne, Chairman P.O. Box AB-20875, Marsh Harbour, Abaco, Bahamas
Tel: (242) 367-2292; (242) 577-0033
5.
North Abaco Fishing Cooperative Society Ltd
AS-F / TM
Cleola Pinder, Secretary Treasure Cay, Abaco, Bahamas
Tel: (242) 365-2040; Fax: (242) 355-2164 Email: boconsultantagency@hotmail.com
6.
Bahamas Cooperative League Limited
NGO / RG
Frank Davis P.O. Box SS-6314, Nassau, Bahamas
Tel: (242) 393-3691; Fax: (242) 393-3700 Email: fdavis@bahamascoop.org
7.
Eleuthera Agricultural Cooperative Society Limited
AS-F / TM
Ian Goodfellow Governor's Harbour, Eleuthera, Bahamas
Tel: (242) 377 5000 Fax: (242) 377 5001
 
 
 
Lady Diane Thampson
Tel: (242) 335 5006
8.
Fish and Farm Supply Store
 
Charles Adderley P. O. Box N 3028, Nassau, Bahamas
Tel: (242) 393-2311 Fax: (242) 394 0964
9.
Grand Bahamas Credit Union ltd
 
Brenda Plakkanis PO Box F-43732
 
10.
Cat Island Credit union Ltd
 
Janet Moncur Eric Moncur General Delivery
Tel: (242) 342 6032 / 6046 Fax: (242) 342 6035
11.
Berry islands Cooperative Credit Union Ltd
 
Mrs. Ina Sturrup, Secretary Norman Bastian, Chairman Bullocks Harbour Berry Islands General Delivery
Tel: (242) 367 8293
12.
Abaco Neem
PRV / PS-E
Mr. Nicholas Mlaoulis P.O. Box AB 20317 Marsh Harbour
Tel: (242) 367 4117
13.
San Andros citrus
PRV / PS-E
Mr. Linden Gaitor North Andros General Delivery
 
14.
Cascarilla
PRV / PS-E
Leonard Roker P.O. Box N-4437
Tel: (242) 325 7096