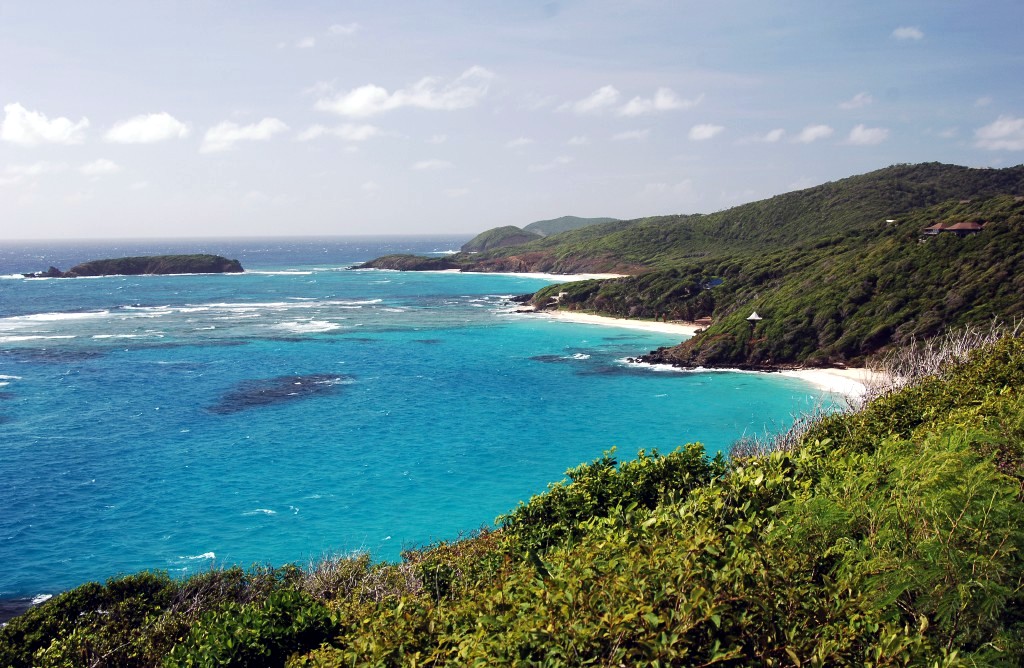 St. Vincent and the Grenadines is another promising agricultural country.  The main island, St. Vincent, is the largest of 150 islands and cays (the Grenadines), which are located to its south. Volcanic in nature, St. Vincent is forested and mountainous.  Its fertile lands, forests and marine life are some of the island's best assets. 
The country has had mixed economic performance in the last decade (2006 – 2016) and it has been noted that the agriculture and industrial sectors were declining while service sectors (Government services, wholesale retail trade, and financial services) were increasing in importance and relative contribution to GDP. Agriculture's contribution to GDP declined from 12.55% in 1996 to 6.2% in 2013. Even with the decline of the island's primary crop, banana,  due to the dismantling of the special European Union access arrangements, agriculture remains the major economic contributor and source of employment.  The country's agro processing/value-adding sector is performing well.  There is room for investment. 
As outlined in the St. Vincent & the Grenadines National Economic and Social Development Plan 2013-2025, government is committed to diversifying the industry by investing in modern technology and by creating linkages with sectors such as tourism and manufacturing.
Government also aims to expand and encourage private sector investment in agro-processing, encourage entrepreneurship among farmers, and increase youth involvement in the sector through training and access to land. There is an effort to diversify crop production beyond bananas to include coconuts, arrowroot and root crops such as cassava, yams and sweet potatoes.
The mountainous terrain and small size are restrictive to large scale farming. As a result the majority of agricultural activities take place on small farmer holdings.
The livestock industry consists of small ruminants (sheep and goats).  Chicken is also produced but imports of chicken meat exceed local production.
St. Vincent is a beneficiary of the Taiwan International Cooperation and Development Fund (TaiwanICDF).  Through this, the Republic of China-Taiwan provides humanitarian aid, technical assistance, education and training and loans and investments to the industry. 
Crops primarily produced in St. Vincent include:
Arrowroot – St. Vincent is the world's largest producer of this crop
Root crops (dasheen, cassava, yam and sweet potato) 
Fruits (mango, coconut, citrus, pineapple, guava, avocado, wax apple, breadfruit and dragon fruit)
Leafy and flower bearing vegetables (cabbage, lettuce, cauliflower, broccoli, pak choi)
Vegetables with edible roots and tubers (carrot, radish & beet)
Coconuts, flowers, spices and limited sugar cane
Fish, plantain and peppers
Beekeeping and honey production are emerging
Invest SVG highlights several investment opportunities in St. Vincent and the Grenadines' agricultural sector.
The following information on agricultural performance by crops, has been extracted from the Agricultural Framework & Strategic Policy 2012-2018 and is referenced in the PROPEL Market Study for Fresh Produce St. Lucia, Grenada, Dominica and St. Vincent & the Grenadines:
Banana: Banana is the single most important agricultural commodity though declining in production and exports due to the Black sigatoka disease and removal of trade preferences by Europe. Acreage under cultivation declined from in excess of 4,000 acres in 2003 to 1,702 acres in 2010. Exports declined from 38,947 MT (EC$55.5 million) in 1998 to 8,939MT (EC$13.8 million) in 2010.
Farmers have adjusted by reducing acreage, increasing sales of fair trade bananas and increasing exports to the regional market. Exports of bananas to regional markets increased from 13% (3,659 MT) of total banana exports in 2004 to 47.7% (4,267 MT) in 2010.
Arrowroot: Production and area under cultivation is declining. Acreage under cultivation fell from 62 hectares in 2002 to 34 hectares in 2010. Exports of arrowroot were valued at EC$0.656 million in 2009. Over the past few years, the industry has implemented programmes for revival of the industry. These programmers aim for: production expansion; increased purchasing and processing; promotion, and marketing of arrowroot starch, and other value-added products for domestic and export markets.
Root Crops: The island of St. Vincent has good soil and knowledge for production of a range of root crops. The major root crops cultivated are dasheen, eddoes, yams, sweet potatoes, ginger and tannia. Comparisons of average annual crop production in the 2001-2003 and 2008-2010 periods show increased output of carrots (24%), cassava (40%), dasheen (64%), eddoes (2%), ginger (28%), sweet potatoes (90%) and yams (8%).
Vegetables and Fruit: A wide range of vegetables and fruit are produced, but only a few of the vegetables, (i.e. pumpkins and hot peppers), are consistently exported. The major deterrents to a wider range and higher quantity of vegetable exports are related to cost of production and quality. Between 2004 and 2010 the data shows declining exports of breadfruit, citrus, paw-paw, soursop, passion fruit and hot peppers.
Diversification through agro-processing
There is a deliberate effort by the Vincentian government to encourage agro-processing.  This is particularly so because the economy is heavily agro-based and there is an urgent need to diversify away from the primary crop, banana. 
Investors will find a wealth of opportunities in areas with the option for long-term financing and reduced duties.
There are two major agro-processing companies: Launders Agro-Processers and the Orange Hill Agro Processing Laboratory.
The Lauders Agro-Processers commands market share with the production of vacuum packed fruits and vegetables for local and export markets.
The Orange Hill Agro Processing Laboratory is jointly operated by the Taiwan Technical Mission and the Ministry of Agriculture, Forestry, Fisheries and Rural Transformation.  It transforms crops into value-added products such as dehydrated and concentrated fruit juices, chips mainly from green banana and breadfruit, as well as ground spices and ice cream. Powdered food products, jams and jellies are also made.