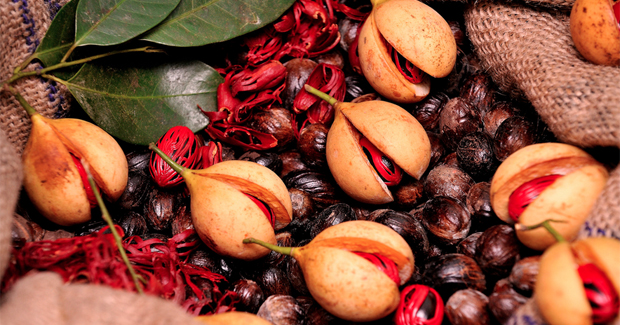 Grenada's primary natural resources are its fertile arable lands, forests, and marine resources.  The agriculture sector is the main user of these resources and is a major contributor to the country's economic and social development. Activities in the agriculture sector also have significant impact on the sustainability of the resources it uses.
Hurricanes Ivan (2004) and Emily (2005) severely damaged the agricultural sector in Grenada. Banana, one of Grenada's major export crops since the 1960s, was totally devastated and the island has had to import banana from Suriname to meet local needs. Grenada is the world's second largest producer of nutmeg which accounts for more than 50 per cent of the country's agricultural export earnings.
Agriculture which employs 11% of the island's labour force has been recovering slowly and contributed 5.6% to the island's GDP in 2014.
With regard to the economy, it is slowly recovering from a protracted recession following the 2008-12 global financial crises.  The Eastern Caribbean Central Bank (ECCB) projected modest positive economic growth in the short to medium term averaging 2.6% between 2013 and 2015. 
Agricultural findings for Grenada include:
Between 2010 and 2014 growth in the agricultural sector averaged 7.4% per annum compared to average real GDP growth of 1.5% during that period. Overall the sector has been one of the major contributors to the country's recent improved economic performance.

Earnings from agricultural exports, which accounted for 47% of total exports between 2010 and 2014, have shown robust growth since 2007, increasing at an average annual rate of 5.5% between 2007 and 2014, although this growth has been fuelled mainly by increases in export prices.

The main exports were nutmeg and mace, fish, milling products, cocoa, and fruits;

The main imports for the 2010-2014 period were meats (mainly chicken), cereals and cereal preparations, and dairy products which together accounting for over 60% of food imports.  Fruits and vegetables accounted for only 3% of food imports;

There was significant decline in the amount of lands under agriculture (24%) and number of farmers (22%) between 1995 and 2012.  The largest decline was in farms larger than 25 acres.  Based on the 2012 Grenada Agricultural Census (GAC), 25% of the available agricultural lands were uncultivated in 2012.  Average farm size also dropped slightly from 2.62 acres in 1995 to 2.54 in 2012

The agriculture sector accounted for 9.6% of the labour force in 2012 and was the second largest employment source by sector.

Agro processing is carried out mainly at a cottage level but recently there has been significant private investments in cocoa and nutmeg processing

There has been a decline in the use of agricultural inputs (fertilizer, herbicides, etc.) but increased use of farm machinery and equipment
The sector is highly vulnerable to climate change, and increased incidence of natural disasters and other extreme weather events. 
Financing and credit/loans to Grenada's agriculture sector for investments are provided by the public and private sector.
Public Sector – Central Government:       Seventy nine percent (79%) of the capital budget for Agriculture in 2014 and sixty seven percent (67%) in 2015 were for infrastructure investment in Farm Roads and Fish Processing Facilities.  Encroachment of real estate development in areas made more accessible by the farm roads is an area of concern.
The main sources of financing for public sector investments in the agriculture sector for the 2015 budget were: the Government of Grenada, the Government of Japan, the Kuwaiti/OPIC Fund, the GIZ, USAID, UNDP, FAO, the Government of Morocco, and the TNC.
The agriculture sector has also benefited from investment in the Market Access and Rural Enterprise Development Project (MAREP) financed by the Government of Grenada, and loans from IFAD and the CDB – farm roads, capacity development, and financing for enterprise development; and the BNTF financed by a grant from the CDB – rural infrastructure, capacity development, etc.
State Owned Enterprises/Statutory Bodies: 
Grenada Development Bank (GDB): Twenty four percent (24%) of the loans approved in 2014 were for agriculture (EC$1.1M) and 11% for fishing bringing its loan portfolio to 8.6% for agriculture and 1.8% for fishing.
Marketing & National Importing Board (MNIB): The MNIB has made significant investment in expanding its retail facilities (Grand Anse, St, George's & more recently Grenville, St. Andrew) and in upgrading its packhouse at River Road, St. George's.
Grenada Cocoa Association (GCA): The GCA has made significant investment in setting up a new chocolate manufacturing plant which became operational in 2014.  The factory is the result of a partnership between LA Burdick Chocolate, the Grenada Cocoa Association, USAID and the government of Grenada.
Grenada Cooperative Nutmeg Association (GCNA): The GCNA is receiving funding from various development partners for the Implementation of the recently completed Nutmeg Industry Strategy.
Private Sector
Commercial Banks:  Commercial Banks annual credit to the agriculture and fisheries sectors respectively averaged EC$90M and EC$$11M annually between 2010 and 2014.  This represented 1.2% (agriculture) and 0.1% (fisheries) of the commercial banks total credit portfolio.
Grenada Chocolate Company: This is a local private sector investment in the production of chocolate for the local market and export.
West India Spices Inc. (WISI): WISI is a private sector investment in the production of quality essential oils, oleoresins, ground spices and other spice products.
Belmont Estate: A local private sector 17th century plantation that offers guests an opportunity to participate in and observe the workings of a fully functional historic plantation.
De La Grenade Industries:  A private sector-owned food processing company which has pioneered the use of nutmeg pericarp (fruit) in the manufacture of high value-added delicious products.
Agricultural Production
In Grenada, agricultural production activities are carried out mainly by low resource farmers on small farms averaging 2.54 acres. Based on the 2012 Grenada Agricultural Census (GAC), land under agricultural acreage was:
25% – cocoa and nutmegs

13% – fruits, vegetables and root crops

1% – livestock
At the level of technology currently applied and the low yields obtained, Grenada is considered a high cost producer of most crops.  Additionally, prices demanded by farmers are based more on 'Price Expectation' rather than profitability.
Agricultural Exports
Agricultural exports accounted for 47% of total exports between 2010 and 2014 and are important for foreign exchange earnings and income generation for producers.  Earnings from agricultural exports also averaged 41%, the value of food imports between 2012 and 2014.  Exports earnings have shown robust growth since 2007 increasing at an average annual rate of 5.5% between 2007 and 2014.  This growth has been fueled mainly by increases in export prices.
Agro processing
The Agro-Processing subsector is relatively small but growing and is made up of a few medium sized agro-processors and over 265 small agro-processors. The majority of agro-processors produce jams, jellies, confectioneries and sauces. Sixty-five percent (65%) of them are women. The subsector also generates self-employment and approximately 1,325 temporary jobs.  It has been conservatively estimated that the sector generates about US$3.9 million per annum. Most of the products are sold on the local market but a number of agro-processors have been able to penetrate the export markets through formal and informal arrangements and through internet marketing.
More than 100 different types of agro-products are locally produced. They are produced in small scale production units/operations concentrated in the rural communities under individual labels and brands and are categorised as:
dry seasonings

wet seasonings and related products

wheat products

beverages

essence and alcoholic drinks

non-alcoholic bottled drinks and water

honey and honey products

confectionary

snacks and dried fruits

cassava products

meat and fish products

ice cream and dairy products

spice products

craft and cosmetic products
Volumes currently traded are low and there is considerable potential for product development and for innovations in presentation and merchandising. There is also scope for larger processing facilities that will engage in basic processing of raw materials and thus serve the smaller agro-processors.
Recently there has been significant investment in chocolate products by the Grenada Cocoa Association (GCA) and a private entity, and the production of nutmeg-based products by a number of private sector companies.  Market responses to these products locally and overseas have been quite positive.
| | | | | |
| --- | --- | --- | --- | --- |
| No. | Name (Acronym):  | Type of Business / Role(s) | Contact Person/ Designation / Postal Address  | Contact Information |
| 1.              | Soubise Fishermen's Cooperative | Association of Fishermen/ OT | Clarence Rapier, President  Grenville St. Andrew | Tel: 473-442-6211  |
| 2.              | The Agriculture Shop | PRV / PS-S | Fletcher Renwick and Thompson  The Carenage St. George's | Tel: 473-440-2625  Fax: 440-4179  Email: renthom@spiceisle.com   Halifax Street |
| 3.              | The Farm and Garden Centre | PRV / PS-S | Colin La Barie, General-Manager  St. George's | Tel: 473-440-2140  Email: hugfarm@caribsurf.com   Main Street |
| 4.              | O'Neale Agro Services | PRV / PS-S | Leah O'Neale  Sauteurs St. Patrick's | Tel and Fax: 473-442-2585  Email:onealesagro@caribsurf.com   |
| 5.              | Nordom Enterprises | PRV / EX, PS-E | Norbert Simon, General- Manager-Owner Lower Depradine Street  Gouyave St. John's | Tel and Fax: 473-444-9312  Email:nordomseafoods@hotmail.com   |