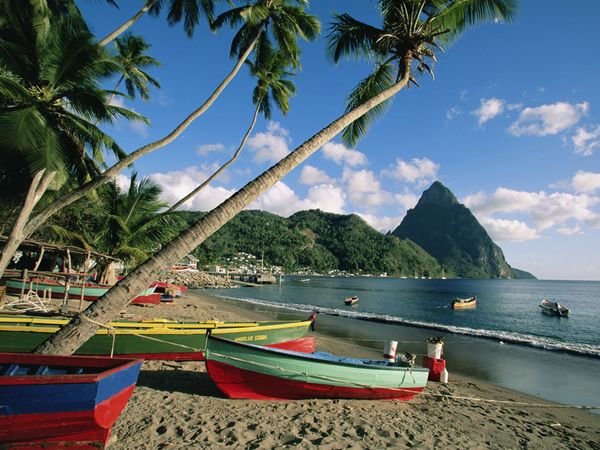 St. Lucia is one of the Windward Islands within the Eastern Caribbean. Currently, agriculture contributes 3% of Saint Lucia's GDP and there are many small and medium sized agricultural enterprises. However, the country's economy also depends significantly on its major natural resources – beaches, minerals and mineral springs, in addition to its services.
Trading partners for St. Lucia are the United Kingdom, US, Brazil, Peru, France, Grenada, Barbados, Antigua and Barbuda, Dominica, and Trinidad and Tobago.
Bananas have been the major crop for many decades although production levels have declined considerably.
As a result, government, with the assistance of the Taiwanese government, has taken steps to combat the Black Sigatoka disease, also known as the banana leaf spot disease, and has been paying close attention to existing and emerging challenges and threats such as Panama Disease.
With regard to the coconut industry, there is an effort to further develop production  and to find increased export opportunities.  
In the area of livestock, government is trying to increase production, primarily for food security reasons and to reduce the import food bill.
St. Lucia produces the following crops:
Bananas
Coconuts
Vegetables
Mangoes
Papayas
Pineapples
Soursops
Passionfruit
Guavas
Root crops
Cocoa
Agriculture remains a significant contributor to economic development. Investments in agriculture and fisheries have risen since 2009, showing positive signs for the re-emergence of the sector.
Bananas
With regards to the banana industry, St. Lucia recorded a record 5,000 tonnes exported in 2014. This was as a result of the continued efforts to fight the Black Sigatoka Disease and the collaborative work with farmers across the island.
Cocoa and chocolate
Government is also encouraging investments in the cocoa and the chocolate production sectors.  The island's cocoa sector is also being revitalised mainly through a partnership between the European Union Global Climate Change Alliance programme and the Caribbean Community Climate Change Centre. 
The Rabot Estate is a cocoa plantation that was established in 1745 near Soufriere in the South West of St. Lucia.  Through its Island Grower Cocoa Programme, Rabot Estate provides advice and technical assistance, seedlings supply and market access to its partners.
Hotel Chocolat is housed on Rabot Estate and specialises in the production of luxury chocolate. Hotel guests stay in cottages and are treated to daily breakfast while visitors to the estate can enjoy the chocolate heritage tour.  
Hotel Chocolat is a good example of the partnership between the manufacturing, agriculture and tourism sectors as the chocolate-making process has become a tourist attraction.  The hotel also produces many chocolate by-products, particularly for the health and wellness sector.
No.
Name (Acronym):
Type of Business / Role(s)
Contact Person/ Designation / Postal Address
Contact Information
1

 

Belle Vue Farmers Cooperative

AS-F / PS-P, EX

General Manager

  Mr Raphael Felix
PO Box 292

  SOUFRIERE

Tel: (758) 459-7188 Fax: (758) 459-7188

2

 

Agricultural Consultancy and Technical Services Ltd. (Agrico Ltd.)

 

PRV / EX, IN

Ms. Luvette Thomas-Louisy

  Managing Director

  P.O. Box CP 5978, Castries

Tel: (758)451-3088 Fax: (758)451-3013

  Email: agrico@candw.lc

3

 

WIBDECO

 

PRV / PS- E,

Mr. Paul Hilaire Chief Executive Officer

  Manoel Street

  PO Box 115, CASTRIES

Tel: (758) 452-2411 Fax; (758) 453-1638

  Email: wibdeco@candw.lc Web sitewww.wibdeco.com

 

 

4

 

Floral Co-operative Society

AS-F / TM

Albert St Clair

  PO Box GM 687

  CASTRIES

Tel: (758) 452 4853 Fax: (758)n452-4853

5

 

Tropical Quality Fruit Co. (TQFC)

 

PRV / EX, TM

Mr. Peter Serieux General Manager

  P.O. Box 158

  CASTRIES

Tel; (758) 458-2653 Fax: (75 8) 458-2653

  Email: epic.sys@candw.lc

6

 

St. Lucia Livestock Development Co.

PRV / EX, TM

Chairman,

  PO Box 273

  VIEUXFORT

 

7

 

Castries Fishermen's Cooperative Society Ltd. PO

AS-F / EX/TM

McArthur Fowell

  Box GM 687

  CASTRIES

 

Tel: (758) 452-6204