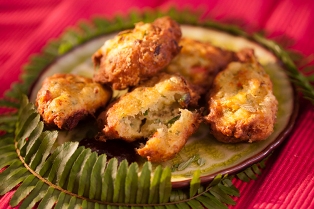 The twin island republic of Trinidad and Tobago is the leading producer of oil and gas in the Caribbean.  As a result, the agricultural sector is small by comparison but is still regarded as a socially and commercially important sector, as it accounts for use of some 16.7% of the land area. While the contribution of the agricultural sector to the GDP of the country is less than 1%, it contributes 5% to total employment, and is particularly beneficial to those living in rural communities.
A national economic policy and strategy has been conceptualised which places greater emphasis on the growth of the non-oil foreign exchange earnings and relatively labour-intensive sectors of the economy, such as tourism, agriculture, agro-processing, and financial services. 
Action Plan for Agriculture 
The National Food production Action Plan 2012-2015  was developed out of this strategy and aims to:
reduce the food import bill
reduce food price inflation
create sustainable, long term productive employment
contribute to the diversification of the economy; and increase the country's food security
Staples selected to be developed under the food security component of the plan were:
Rice
Dasheen
Cassava
Eddoes
Sweet Potatoes
Breadfruit
Vegetables earmarked to be grown to support the domestic market were:
Sweet Corn
Sweet Peppers
 Pak Choi
 Lettuce
Melongene
The plan also seeks to encourage the growth of legumes and pulses like:
Black Eye Peas
String Beans
Pigeon Peas
Bodi (long beans)
Seim (Dolichos lablab)
It also focuses on producing a year-round supply of fruits like:
Citrus
Sucrier
banana
Pineapple
Mango
Dwarf Pommecythere (golden apple)
Papaya (Pawpaw)
Avocado
Watermelon
Banana/Plantain
Coconuts for water
Livestock/ Aquaculture
The strategic plan in this area is to increase the levels of pork and poultry production as well as fish stock.  
The 2012 – 2015 Action Plan outlines several challenges to the development of the sector including:
an inconsistent supply of vegetables during the year
inconsistent quality of vegetables
misuse of pesticides
As a result, a number of strategies have been developed to address these challenges. They include: the development of technology and infrastructure for post-harvest storage and the handling of produce; developing and encouraging farmers to use protected production systems; improving the system of farm certification; and, working with the Ministry of Health to develop the capability of pesticide testing of plant produce for consumption.
The country is described on the Invest TT website as one with a positive investment climate.  It is also described as having a stable democracy and close relations with its Caribbean neighbours and major North American and European trading partners.  
While manufacturing and services are two of the main areas where persons can invest, Invest TT believes there is some room for investment in agriculture.  There are opportunities to invest in the agribusiness sector with the local food and beverage sector (measured and included in Manufacturing) offering significant investment opportunities. This is especially so for manufacturers who utilise unique regional agro-products to develop goods.
In light of increased access to global markets and North America's desire for exotic foods, as well as the growth of gourmet lifestyles in more developed metropolitan communities, this sector has an opportunity to create and innovate in the production of specialty items for local, regional and international markets.
Another area in which persons can invest is the cocoa industry through the Lopinot Cocoa Estate project. Trinidad and Tobago enjoys a healthy comparative advantage in cocoa production with its unique combination of rich cocoa history, suitable soils and climate, investment in intellectual capital by having the longest continuous cocoa breeding programme in the world, and a one-of-a-kind universal collection of unique cocoa varieties. 'Trinitario' cocoa is in high demand throughout the globe by the most renowned of chocolatiers.
With regard to hot peppers, Trinidad and Tobago's Scorpion Moruga pepper is the hottest naturally growing pepper in the world, rated the world's hottest pepper by the New Mexico State University's Chile Pepper Institute in February 2012. And the demand for pepper mash prepared from Trinidad and Tobago's local hot peppers is steadily growing.
Monies for investment in agriculture can be accessed from the private and public sector.
Public Sector – Central Government:
An allocation of $0.831 billion was made to the agricultural sector in the 2015 Budgetary Proposals. Additionally, the cost of inputs into the agricultural sector, including approved chemicals, pest control, approved vehicles, approved fishing vessels and equipment will be exempt from all duties and taxes effective January 1, 2016. 
The Ministry of Agriculture, Land and Fisheries provides incentive programmes for individuals and businesses involved in the agricultural sector.  Claims can be made for:
vehicles
machinery and equipment (includes beekeeping)
water (wells, dams, ponds)
soil conservation
land preparation
citrus fields
cocoa and coffee fields
coconut fields
livestock (beef, diary, goat and sheep)
guaranteed prices
State Owned Enterprises/Statutory Bodies
The Agricultural Development Bank of Trinidad and Tobago (ADB) specialises in development financing for the agricultural sector. It provides the best financial solutions that nurtures investment and entrepreneurship across the entire agri-food chain and in all aspects of agriculture. 
The National Agricultural Marketing and Development Corporation (NAMDEVCO) assists in the development of investment profiles, establishing links with service providers and implementing pilot projects.  It also offers services in identifying local and export market opportunities and developing value added products. NAMDEVCO covers markets in Macoya, Debe, Valencia, Chaguanas, Diego Martin, Point Fortin, Port of Spain and Orange Valley as well as a packing house at Piarco airport.
International Organisations
The IDB has partnered with Government aimed at improving Marketing and Production of Artisanal Cocoa from Trinidad and Tobago at an estimated cost of USD 1,550,000. 
Agricultural Production
The Trinidad and Tobago Country Report indicates that land use for agricultural purposes has declined significantly over the years.  Land use declined from 15.0 % in 1990 to 0.5% in 2010-2011, while permanent cropland went from 6.8% in 1990 to 4.3% in 2010-2011.
Agriculture in Trinidad is a market driven activity and the produce is sold locally at wholesale and retail markets, farmers' markets, supermarkets, hotels and restaurants.  Produce is also sold at Farmgate – where wholesalers and distributors purchase solely from farmers, road-side vending, internet marketing and contract marketing.  The National Agricultural Marketing and Development Corporation oversees all market activity.
Agriculture is administered in Trinidad by county. The seven (7) administrative county districts are: George West, St. George East, St. Andrew / St David, Caroni, Nariva / Mayaro, St Patrick and Victoria
Agricultural Import/Exports
There are approximately 30 agro-processors operating in Trinidad according to that country's Manufacturing Association, however, the raw materials used in this process are usually imported from Guyana, St. Vincent and Grenada or in partially processed form from the United States.
Trinidad is a party to the 2010 International Cocoa Agreement and has traditionally exported its entire cocoa crop.  However due to high labour costs, low farm productivity, the ageing farmer population and the unattractiveness of the industry to the younger generation  as well as other challenges related to capital, access roads and land tenure, exports declined from 35,000 tonnes in the early 990s to 600 tonnes around 2012.  The Ministry of Food Production, Land and Marine Affairs had developed a number of strategies to double the output for export.
Agro processing
According to the Trinidad and Tobago Manufacturers Association there are approximately 30 major agro-processors operating in Trinidad and Tobago. These companies source raw materials from Guyana, Grenada, St Vincent and much of it, in partially processed form, from the United States.
This is largely because there is no large-scale collection area/packing house that would allow farmers to store material.  It was estimated that these processors supply around 8% of the processed foods consumed in Trinidad and Tobago.
The Trinidad Country Report lists the key agro processors as:
B & J Foods
Garden Fresh Produce
Kitch Mix Food Products Limited
Leela Cubair
Turban Broad Producers Limited
Willies Homemade Ice Cream
Rainbow Country Food Products Limited
No.
Name (Acronym):
Type of Business / Role(s)
Contact Person/ Designation / Postal Address
Contact information
1

 

Arena Farmers Group

AS-F / EX

# 172 Arena Road, Freeportor

  C/o Agricultural Society of Trinidad And Tobago (ASTT)

  Pembroke Street, Port of Spain

Tel: 868-627-3087

2

 

B & J Foods

PRV,

64 Forth Street, Tumpuna Road,

  Arima,

  Southern Port of Spain

Tel: (868) 643-0253

3

 

Belle Garden Farmers Association

AS-F / PP, TM, TR, RU, OT

Samuel Sylvester

  President

  Belle Garden Post Office, Belle Garden, Tobago

Tel: 868 660 4796, 868 660 4627

4

 

Bethel Farmers Association

AS-F / EX

Samuel Charles

  President

  #2 Montgomery Local Road
Carnbee, Tobago

Tel: 868 639 7223

5

 

Bon Air Agro-Processors Limited

PRV / PS-M

#9 Ramcharan Street

  off Thavenot Street

  Tacarigua

Tel: 868 640-8859

 

6

 

C.A. Correia Trinidad Limited

PRV, PS-M

5A Old ST. Joseph Road,

  Laventille,

  Belmont North & West

Tel: (868) 623-4860

7

 

The Caribbean Coffee House Limited

PRV, PS-M

17B Diamond Vale, Industrial Estate, Diego Martain, Diamond Vale

Tel: (868) 637-6235, (868) 637-3306

8

 

Caribbean Specialty Food

PRV, PS-M

#67 Hillsdale Crescent,

  Mt. Hope,

  Southern Port of Spain

Tel: (868) 638-4286

  Fax: (868) 653-2705

  Mobile: (868) 757-2961

9

 

Caribbean Spices Ltd

PRV, PS-M

6 Nacir Street,

  Preysal, Couva,

  Southern Port of Spain

Tel: (868) 636-6658

10

 

Charles Candy Company Limited

PRV, PS-M

P.O. Box 1138

  Port of Spain,

  Southern Port of Spain

Tel: 868 638 -6461, 868 638-6463

11

 

Chatak Food Products

PRV, PS-M

Frederick Settlement,

  Industrial Estate,

  Caroni,

  Munroe Road/Caroni Savannah

Tel: (868) 645-9648, (868) 645-9647, (868) 645-9641

12

 

Chief Brand Products Limited

PRV, PS-M

Uriah Butler Highway,

  Charlieville, P.O. Box 1042,

  Chaguanas,

  Charlieville

Tel: (868) 665-4144 , (868) 665-5012

13

 

Cunupia Farmers Association

AS-F / EX

C/o Anil Ramnarine

  LP #62

  Esmerelda Road

  Cunupia

 

14

 

Depot Road Farmers Group

AS-F / EX

C/o Mrs. Miradai Seetahal

  LP 76-86 Depot Road

  Longdenville Post Office

  Via Chaguanas

 

15

 

Fresh Start Limited

PRV,

#25 Senior Street,

  Via Manning Street,

  Diego Martin

  Southern Port of Spain

Tel: (868) 637-4902

16

 

Friendsfield Young Farmers Association

AS-F / EX

Linton Thomas

  91 Friendsfield Road

  Scarborough

  Tobago

Tel: 868 635 0859

 

17

 

Garden Fresh Produce

 

80 Sunkist Drive, Philipine,

  San Fernando,

  Les Efforts West/La Romain

Tel: (868) 653-3200, (868) 653-2824

  Fax: (868) 653-2824
Gonzales

18

 

Jubilange People's Cooperative Society

AS-F/PS-M

24 Jubilee Street

 

19

 

Kitch Mix Food Products Limited

 

Building 18 F,

  O'Meara Industrial East,

  Arima

Tel: (868) 646-3618

20

 

KMC Associates

 

2 Torquoise Drive, Diamond Vale,

  Diego Martin
Gran Couva Main Road
Gran Couva

Tel: (868) 632-0824

21

 

La Philipine Farmers Association

AS-F / EX

C/o Kenneth Heeralal

Tel: 868 679-9527

 

22

 

Las Cuevas Farmers and Homesteaders Association Ltd

AS-F / RU

Rincom Trace

  Las Cuevas

Tel: 868 622-1082

 

23

 

Leela Cubair

 

1 1/4 mm Chin Chin Road,

  Cunupia

 

24

 

Maloney Farmers Association

AS-F / EX

Abdul Young Street

  Aranguez

Tel: 868 638-9479

 

25

 

Mega Foods Company Limited

 

Lot 1C,

  O'Meara Industrial Estate,

  Arima

Tel: (868) 642-9064, (868) 642-3779

  Fax: (868) 642-0634

26

 

Michael's Marketing Agency

 

15 Woodpecker Lane,

  River Estate,

  Diego Martin,

  Morne Coco/Alyce Glen

Tel: (868) 637-0926

27

 

Mountain Fresh

 

#42 Main Road,

  Williamsville,

  Ben Lomond/Williamsville/Hardbargin

Tel: (868) 655-2063

  Mobile: (868) 770-6387

28

 

Mt. St. George Farmers Association

AS-F / EX

Orwin Dillon

  President

  C/o Botanic Station
Scarborough Tobago

Tel: 868 639-4356

 

29

 

National Canners Limited

PRV, PS-M

Churchill Roosevelt Highway,

  Arima, Arima Central

Tel: (868) 642-3091, (868) 642-3062, (868) 642-8959

30

 

National Fruit Processors Limited

PRV, PS-M

1A Century Drive,

  Trincity Industrial Estate,

  Southern Port of Spain

Tel: (868) 662-5470

31

 

Paramin Women's Group

 

#2 Tangerine Drive,

  Santa Rosa Heights,

  Arina

  Southern Port of Spain

Tel: (868) 628-1008, (868) 680-6300 Fax: (868) 628-1008 Mobile: (868) 749-4226

32

 

Rainbow Country Food Products Limited

 

4 Temple Street,

  Mt. Lambert,

  Petit Bourg/Champ Fleurs/Mt. Lambert

Tel: (868) 675-2303¸ (868) 675-3184

  Fax: (868) 675-2303

33

 

RHS Marketing

 

#5 Frederick Settlement,

  Industrial Estate,

  Caroni,

  Munroe Road/Caroni Savannah

Tel (868) 662-8381

34

 

Royal Castle Limited

PRV, PS-M

65 Western Main Road

  St James

  St. Ann's River Central

868-622-1000

35

 

Tai Pan Industrial Ltd

 

5 B Trincity Industrial Estate,

  Macoya Road,

  Tunapuna,

  Southern Port of Spain

Tel: (868) 645-1239, (868) 663-9877

36

 

Tobago East Association of Farmers

AS-F / PP

Linton Thomas

  C/o Eon Robley, 23 Breadfruit Alley, Argyle, Tobago

Tel: 868 660 6324, 868 684 1607

37

 

Tropical Fruits

PRV, PS-M

15 Dinoo Road

  Charlieville, Chaguanas

  Southern Port of Spain

Tel: 868 655-6763

38

 

Tro-Pickle Foods

PRV, PS-M

#17 Nelson Road,

  Freeport,

  Freeport/Calcutta

Tel: (868) 673-4204

  Fax: (868) 673-4204

  Mobile: (868) 780-5133

39

 

Turban Broad Producers Limited

PRV, PS-M

188 Eastern Main Road,

  Tunapuna,

  Auzoniville/St Benedict

Tel: (868) 663-0324

40

 

T. Geddes Grant Ltd

PRV, PS-S

61-63 Edward St.,

Te:l 868 623 4450, 868 625 1681

41

 

VEMCO Limited

PRV, PS-M

Lot 9A, Diamond Vale,

  Industrial Estate,

  Diego Martin,

  Diamond Vale

Tel: (868) 623-0443, (868) 633-5339

  Fax:

  (868) 633-7159

 

42

 

Willies Homemade Ice Cream

PRV, PS-M

L.P. 32 Arena Road,

  Freeport

Tel: (868) 673-0537 , (868) 673-3468

43

 

Sesame Foods Limited

PRV, PS-M

319 Mission Road,

  Freeport

Tel: (868) 673-0015