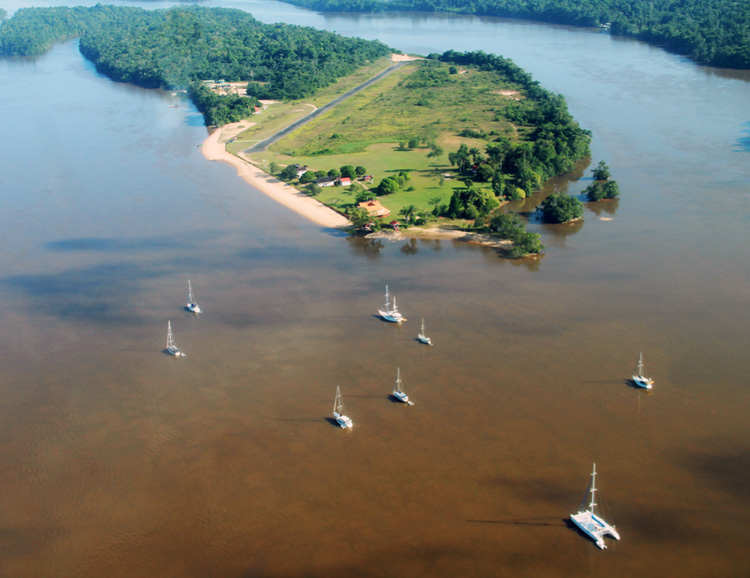 Guyana is a sovereign state on the northern mainland of South America. Agriculture is one of its main economic activities with 51,000 (14%) of the working population in the sector. Given the size of Guyana, and the importance of the agriculture sector, as well as the large volumes of products available, it is expected that the country would have a sophisticated marketing network.  And what might be deemed small scale production in Guyana would yield three to four times more than a similar producer in other Caribbean countries.
In 2015, agriculture accounted for 21.8% of Guyana's GDP , 30% of employment and 40% of export earnings with the production of:
Rice

Demerara sugar

Livestock production

Shrimp
Other products produced by Guyana include:
Edible oils

Beef

Pork

Poultry

Fish

Ginger

Coconuts

Pineapples and other citrus fruits

Bananas

Ground provisions

Tomatoes

Boulanger

Eschallot

Bora

Cucumber
Agriculture remains central to the country's food security, supplying significant amount of fruits and vegetables, chicken, beef, and pork to satisfy local consumption. The rice industry especially has recorded consistently high levels of output, breaking the 400,000 tonne bar, in 2011, and the 500,000 tonne bar, in 2013. For 2014, rice output attained an impressive 635,238 tonnes, an increase of 18.6%. Other crops such as vegetables, staple crops, fruits and spices are being produced in larger quantities to satisfy local needs as well as to meet the requirements of export markets.
The vast majority of agricultural activity takes place in Guyana's coastal plains. The local climate is tropical, generally hot and humid, with two rainy seasons from May to mid-August and the second from mid-November to mid-January.
The fisheries sector continues to be a major source of animal protein in Guyana and contributed G$157 million (2.8%) to total GDP in 2004, greater than that of rice (2.6%). In aquaculture particularly, species grown are queriman, snook, croaker, bashaw, tilapia, tarpon, shrimp, tilapia, and catfish.
With the Government's recent commitment to the expansion of agricultural product offerings, Guyana has a myriad of investment opportunities for the sector.
Prices are generally increasing for export quality fish

There are a number of underexploited, potentially valuable fish further offshore

Creation of more by-products for export trade such as frozen or powdered root powders

Potential for further development in aquaculture especially in relation to shrimp farming
Aquaculture: This sector continues to be developed with two commercial farms established. A 6.25-ha farm is producing fresh water prawn and a 40-ha tilapia farm is developing satisfactorily.
Rice: The Guyana Rice Development Board (GRDB) Strategic Plan 2012-2022  seeks  to improve 70% of drainage and irrigation schemes and increase yields of rice to 6 tonnes/ha.
Sugar: The long-term plan for the development of the agriculture sector is evident in the construction of the largest Sugar Factory in the Caribbean Region, Skeldon, with assistance from the World Bank.
The non-traditional crops and vegetable sector is growing and contributing to food production efforts by taking advantage of the support of the government and of the New Guyana Marketing Corporation (NGMC) which assists farmers in marketing their produce both locally and internationally.
Support is also provided for the following range of products:
Crab wood oil, crab wood oil soap, crab wood oil cream

Cocoa sticks, ground coffee

Hot pepper sauce, seasoning sauce, cassareep

Virgin coconut oil, honey

Preserved carambola, green mango achar

Cassava bread, farine, tapioca

Peanuts, cashews

Peanut butter, peanut biscuits