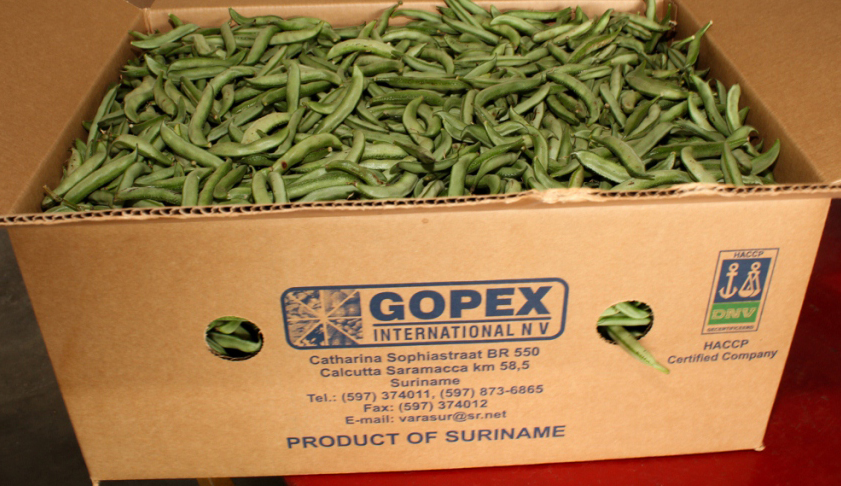 This article first appeared in Caribbean Export Outlook 2016-2017. Used with permission.
Company to look out for: Gopex International N.V.
Company Name
Gopex International N.V.
Website
Chief Executive Officer
Bhiesnoepersad Gopal
Years in existence
17 years
Location
Suriname
Product Summary
Gopex International NV produces both fresh-cut fruits and vegetables. The fresh fruit include passion fruit, watermelon, pineapple, papaya, mango, Knippa and rambuttan. Our fresh vegetables consist of bitter guard, eggplant, African eggplant, string bean, peppers, okra, tanja leafs, bitter leafs, Indian broad beans, cabbage, lettuce, celery, tomato and much more. We also supply a variety of fruit mixes and other non-processed vegetables.
Export markets
Netherlands, German and UK
Major exporting achievements
Quality Era Award
SLM, Most outstanding Shipper (Paramaribo- Amsterdam)
KLM Highest Tonnage growth award
HACCP/ISO 22000, January 2014
Emerging Exporter of the Year Award
Market entry strategies
Gopex first started as a small supplier of fresh vegetables. However, developments in both the local and export markets have led the company to specialize our processes, upgrade our infrastructure, and improve our standards in an effort to provide safe food to our consumers. Gopex is currently in the final phase of obtaining the Global Good Agricultural Practices (GAP) certification. We also record all our actions in order to maintain a strong quality system within the company.
Greatest Exporting Lessons Learnt
We have learnt the importance of guaranteeing the provision of safe hygienic products to our consumers. Our motto is 'Safe food is our priority'.
Name of Award presented to your company
"Emerging Exporter of the Year Award"
Key Success Factors
Factors which have accounted for us winning the Emerging Exporter of the Year award are perseverance in all that we do, investing in sustainable agriculture, obtaining certification (ISO / HACCP, Global G.A.P.), strong management and expert staff and fulfilling our corporate social responsibility.
General Recommendation on Support Needed by Exporters
Our experience is that countries in CARICOM such as Trinidad, Barbados, and St. Lucia have high levels of bureaucracy and complicated documentation which makes it difficult for Surinamese producers to export to these countries. Bureaucracy also exists in Suriname and public officials as a result of red tape and limited cooperation between departments are unnecessarily causing delays in the export of agricultural products which in turn causes buyers in our export markets to receive lower quality products. In order to help firms to manage these difficult obstacles, there is a need for greater access to information from authorities on what is required to facilitate export. Perhaps training of farmers would help. There is also the need for assistance in the area of acquiring certifications such as Global G.A.P which will open up a range of markets to exporters.