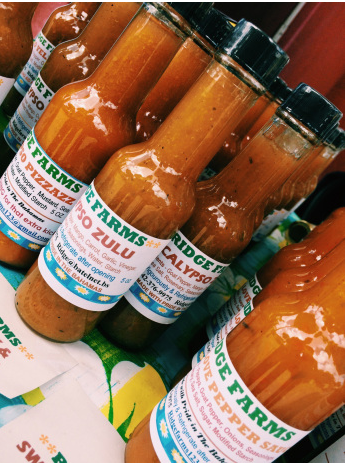 This article first appeared on Caribbean Export. Used with permission.
The secret of joy in work is contained in one word – excellence. To know how to do something well is to enjoy it. This is but one of the many qualities that is synonymous with the work undertaken, and the products supplied by Bahamian businesswoman, Rionda Godet. The self-proclaimed 'Attornfarmpreneur' (pronounced at-turn-farm-pruh-newer), is the founder and proprietor of Nassau-based Ridge Farms, a Bahamian agri-business firm specialising in 100% natural jams, pepper jellies, tomato and pepper sauces, and salsas.
"I am an attorney by profession, a farmer by choice, and an entrepreneur by nature. Growing things is my passion. For as long as I have known myself, I have always loved growing things – especially things that I can eat. As a child, I loved to watch for the unfolding of leaves and the budding of flowers that gave way to edible fruit. That love has remained even in my adult years, although I wafted into a very healthy legal practice".
Rionda transitioned into food processing as a result of an arrangement with a client that was not honoured. What could have been seen as a problem was regarded instead as a prospect.
"A client reneged on their contract to purchase my organic tomatoes, so I was left stranded with an order that I could not parcel out to anyone else. I decided to distribute them freely to members of my church, but I still had a good bit left after that order. So I made tomato sauces. Lots and lots of tomato sauces. I eventually made three variations, all of which received overwhelming responses, and the rest is as they say, history".
Shortly after, she started making pepper sauces from home-grown peppers, and jams and pepper jellies from her collection of homespun fruit. In 2009, Rionda established Ridge Farms, and immediately made the decision to take a 3-year sabbatical from her legal profession to develop the business. The daily operations of the family-run business is managed by Rionda, but from time to time, her husband and two sons play a role in fulfilling orders and undertaking other business processes.
Even though there is local demand for Ridge Farm's products, the majority of the company's customers are within the tourist market. Primarily luxury hotel resorts, tourist souvenir boutiques, and in the departure lounge of the Sir Lynden Pindling Airport.
Through tourist sales, approximately 65% of Ridge Farms products end up in the United States (US) and Canada. Rionda however has plans to establish a factory within the US in order to boost her manufacturing and distribution efforts.
"The cost of shipping from the Bahamas is extremely prohibitive at this point for my business, but there is a tremendous opportunity awaiting in the Caribbean diaspora within the North American market, so this is the next logical step for me to take".
The award-winning company has received global recognition since commencing operations, but like most small enterprises, there are periods of difficulty.
"I suppose like everyone else, capital is always a key concern. When I took my sabbatical from law, I made sure that I had a nest egg secured to help me maintain my financial responsibilities. In truth, I depleted these savings before my business was self-sustaining, because promises of support that aided my decision to move into agri-business did not come to fruition. Nevertheless, when your dream is big enough, no obstacle can be a deterrent, just a detour. It has been a tremendous journey, and one I believe will pay off in big dividends in the future".
In building the Ridge Farm brand, Rionda has recognised the importance of taking advantage of capacity building initiatives as a critical aspect of business development. This led to a multidimensional engagement with the Caribbean Export Development Agency (Caribbean Export). Under the 10th European Development Fund (EDF) Regional Private Sector Programme (RPSDP), Ridge Farms was a beneficiary of the Direct Assistance Grant Scheme (DAGS), and participated in the CARICOM-DR and CARIFORUM-EU Business Forums, Break Point and the Study Tours to Europe.
"My experience with Caribbean Export started in 2012. Through the Agency, I have attended a number of educational and technical symposiums and workshops that have connected me with fellow Caribbean manufacturers in the Dominican Republic, Jamaica, Barbados and Trinidad and Tobago. The most beneficial initiative was the European Study Tour as that provided phenomenal business-to-business opportunities with manufacturers and distributors in Hamburg Germany, Manchester, and Paris.
Another major achievement for Ridge Farms was the award of two grants under the DAGS. With this funding, Rionda was able to increase product development and efficiency with the new machinery purchased, and adopt innovative business practices.
Rionda deems herself as the poster child for Caribbean Export, and credits the programme activities under the 10th EDF RPSDP with shaping her business into a successful enterprise.
"I consider [the Agency] a partner, and because of the assistance I have received, I am happy to share my experiences and speak about the programme, so that others can benefit as I have".
Her biggest business wish is to see Ridge Farms become self-sustaining, and used as a model for other cottage industries. The ultimate goal is for her business 'to be to the Bahamas, what Grace Foods is to Jamaica', a reference to the latter nation's multinational conglomerate, Grace Kennedy.
"I honestly believe that I can do anything I put my mind to. I am even more motivated when I consider the potential and possibilities of my cottage industry. It's not how you start, that matters, it's how you finish; and I intend to finish well".
The energetic entrepreneur is confident that other agro-processors can maximize on their exports, if they focus on nutritional assessments and make shelf-life testing a priority. However, as a caveat, she noted that the challenges associated with shipping from the Bahamas have to be addressed at a policy level so that there is a real chance for viability.
Rionda's formula for success is built on a foundation of love, belief and action.
"It starts with love. I love love love what I do, and I have a firm belief that I can accomplish great things because of this undying passion. This in turn spurs me to act on my dreams, so that I can turn my potential into reality."
To get in touch with Ridge Farms contact:
Rionda Deleveaux Godet
Founder and Proprietor
Ridge Farms Enterprises
Ocean View Drive
Westridge Estates
Nassau, Bahamas
1-242-376-9975
godetrionda@gmail.com
About The Author