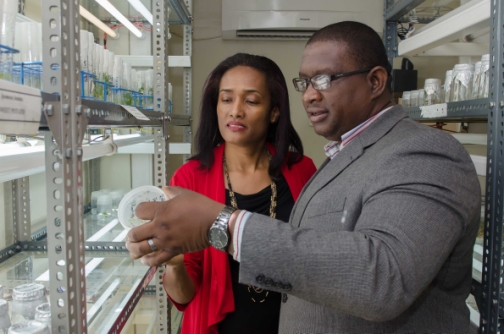 News Date: December 21 2016
Executive Director of the Scientific Research Council (SRC), Dr Cliff Riley (right) and Acting Caribbean Agricultural Research and Development Institute (CARDI) Representative in Jamaica, Dionne Clarke-Harris, discuss the process involved in producing disease-free plantlets in the SRC's Biotechnology (Plant Tissue Culture) Unit.
KINGSTON, Jamaica (JIS) — A new $500,000 water-filtration system is expected to enhance the Scientific Research Council's (SRC) capacity to produce more disease-free planting material for selected food crops.
The system, which was provided by the Caribbean Agricultural Research and Development Institute (CARDI) was handed over during a ceremony at the SRC's Hope Gardens location in St Andrew yesterday.
It will be used in the SRC's Biotechnology (Plant Tissue Culture) Unit to produce a higher volume of clean planting material, especially for root and tuber crops such as sweet potato, cassava, yam and dasheen.
Welcoming the donation, Executive Director of the SRC, Dr Cliff Riley, said the system "will impact positively on our reach and span of our tissue culture plant access, which was a limiting factor".
"Having enough water to produce 18,000 plants per week is significant. We have orders sometimes, where one entity may want about 100,000 clusters, which is about 300,000 plants, so if you can't provide that water in a timely manner, you have challenges," he said.
Most importantly, Riley said the new equipment will save the SRC money, noting that the agency has been purchasing water for more than a year, costing up to $200,000 per month.
He added that the Council also appreciates the partnership with CARDI which he said "concretises the efforts of our local scientists, and it completely highlights the commitment of our scientists, as well, in solving our problems".
Explaining the impact of the new equipment, Research Scientist, Ryan Francis, told JIS News that it will "help us to produce large quantities of plants inside our labs because it produces water that is of good quality that we can use to grow our plants".
"In the lab, we produce plants in jars and these plants are multiplied over a period so that we can reach the quantities that the small farmer is expecting for purchase," he further explained.
In her remarks, Acting CARDI Representative in Jamaica, Dionne Clarke-Harris, said the equipment is expected to significantly increase the SRC's production of plantlets, which is fundamental to increasing farmers' crop productivity overall.
"We look forward to this expanded capacity having a significant impact on farmer access to high-quality planting material in the short term," she said.
CARDI acquired the equipment under the European Union-funded Agricultural Policy Programme (APP). The APP is funded under the 10th European Development Fund (EDF) and is being executed in the Caribbean by Inter-American Institute for Cooperation on Agriculture (IICA), in partnership with CARDI and the CARICOM Secretariat.
The programme targets three areas: Policy (CARICOM Secretariat); Technology, Research and Development (CARDI); and Agribusiness and Market Access (IICA).
The specific objective is to increase the capability of agricultural development organisations of the Caribbean and Pacific regions to address the development needs of smallholder agriculture, with smallholder producers being the main beneficiaries.
News Source: Jamaica Observer
About The Author